The most popular strategies for B2B lead generation and sales had to be rethought after the period of social isolation we went through and with the boost of digital tools in recent years.
Want to bring digital strategies to your B2B brand? Check out this post with 6 tips plus a bunch of insights to guide you and your business!
What is the difference between B2B and B2C?
Companies are divided between the B2B and B2C sectors according to the sales profile for different audiences.
A B2C (Business to Consumer) company sells directly to the final consumer, without intermediaries. If the brand sells to another company, it is a B2B (Business to Business) company .
Main features of B2B sales
Inter-company sales deal with buyers with strategic motivations and different behaviors and objectives than a buyer who is the final consumer.
The B2B buyer is a professional and is buying on behalf of the company, so it must be aligned with the company's needs.
Usually this type of negotiation is fiercer and the technical knowledge to assess the quality standard is higher.
More than one decision maker
Usually in B2B, we talk about high value contracts and bureaucratic processes according to the rules defined by each purchasing company.
For these reasons, it is difficult for a B2B sale to be closed only by a professional. The decision is not individual, but a group that decides on behalf of the company.
A survey released by the Harvard Business Review shows that, in B2B sales, an average of 5.4 people need to formally sign a purchase or contract for services.
Therefore, one of the challenges of B2B sales is reaching consensus among all involved professionals and purchase decision makers.
According to this same HBR report, many suppliers are concerned with convincing that they are the best option in the sales process, when they should be concerned with helping decision makers to find the best solution together .
More reason, with a dash of emotion
Google has partnered with CEB's Marketing Leadership Council to research whether decisions in the B2B sector really don't have emotional interference , as is assumed when thinking about this type of negotiation.
The reality may surprise you:
" B2B brands generated more emotional attachments than B2C brands , which didn't even come close to the results of B2B brands . Of the hundreds of B2C brands that Motista studied, most have emotional connections with 10% to 40% of consumers.

Meanwhile, of the nine B2B brands studied, seven surpassed the 50% mark. On average, B2B customers are significantly more emotionally attached to their suppliers and service providers than consumers are. "
We forget that decisions are made by people, who deal with interpersonal relationships and emotional issues, even in the workplace.
With higher risks and longer negotiation processes, the corporate customer tends to buy not only when they are confident about all aspects of the purchase, but when they have already established an involvement with the supplier.
Longer sales cycle
The impact of a wrong choice, an unreliable supplier, or poor quality delivery is too great for the decision to be made quickly.
Contracts are only closed after the buyer company is fully secure, which means that impulsiveness is not part of this type of purchase, which generally has a longer cycle until the conversion of a prospect into a customer.
Higher average ticket
When we talk about B2B sales, we are talking about businesses that tend to have high profit margins and a higher average ticket. Therefore, standing out in this sector is essential for the financial success of the company that sells to other brands.
According to a survey released by the American business consultancy Frost & Sullivan, by 2020 B2B negotiations reached a level of 3 trillion dollars.
Longer contracts
By having longer processes, usually the contracts also follow a longer period. After all, there is not enough time to go through the purchasing process with each new demand.
This is one of the advantages of B2B sales. In addition to establishing a longer first contract, renewal is more likely if there is demand and if its delivery is satisfactory.
Recurring revenue
Another characteristic of B2B buy and sell contracts is that they are usually related to recurring purchases, which happen with monthly payments, over a specified period of time.
This is an advantage for the supplier, who can predict cash flow more comfortably, especially in cases of longer contracts.
7 Best Digital Marketing Strategies for B2B Sales
B2B sales: an advantageous and competitive market. So, standing out and creating business opportunities is a must. This is true for each and every company, and with brands that sell for brands, it couldn't be different.
Therefore, we have gathered here for you 7 strategies which are those that are gaining ground in the market for presenting effective results for companies, exploring the tools that digital marketing can provide.
1. Paid Media and Remarketing
Remarketing is the process of bringing visitors back to your website or other pages so that they complete the expected conversion. Paid media, linked to the remarketing strategy, can bring very interesting results for the B2B sector.
To do this, create ads and test, apply the ones that have the best results and don't direct the visitor to the same conversion page, or to the same hook that they already had contact with.
If the conversion didn't happen in the first moment, don't stick to the same strategy hoping that the visitor's perception will magically change.
2. Content Marketing
Content Marketing is also relevant to B2B strategies, when applied in the right way. Understanding who the influencing personas and decision-making personas are is essential to also understand your target audience's behaviors in relation to the surveys they carry out.
There are professionals with different purchase maturity and some are looking for information, others are looking to learn about the solution and some are already looking for purchase options.
Only with this information in hand will keyword research be effective and content marketing will have some impact on your branding and lead capture results.
3. Referral Marketing
Your brand's best sellers are satisfied customers. Reference marketing works with strategies to ensure that these customers are spontaneous multipliers and promoters of your solution. And everyone trusts personal referrals.
For the B2B sector, this dynamic of looking for references is even more commonplace than among end consumers: 84% of completed sales start with some indication.
And yet, 54% of B2B companies don't have a referral marketing job.
4. Account Based Marketing (ABM)
The Account Based Marketing strategy works through the selection of specific accounts (companies as targets) and marketing and commercial work focused on converting these business opportunities. The campaigns created are designed for each of these targets, in an extremely personalized way.
Due to the high degree of targeting, 97% of companies that used the tactic reported that there was an increase in ROI, according to research by the Altera Group .
5. Branding
Don't forget the importance of working on the brand's image and identity in B2B.
Many companies in this sector fail to leave branding aside, because they think it doesn't make as much difference as in the B2C sector, but this attitude can harm business possibilities, since the number of suppliers available in each market is huge.
Therefore, companies with greater visibility and brand awareness end up gaining the space that those who do not value branding lose.
6. Virtual events
If face-to-face events have always been very important in the relationship and generation of contacts for B2B sales, in times of social isolation, virtual events take over. This trend was on the agenda even before that, but it was really driven by the context in which we live.
Therefore, virtual events are now a way to generate visibility for B2B brands, create a community, promote managers, leaders and sales representatives and even generate leads that can be nurtured and qualified after the events.
Other insights into B2B marketing and sales
Want more strategies for the B2B sales sector? We have some more insights for you!
Mobile gains more and more space in B2B
As we have seen, interpersonal relationships have an impact on sales negotiations and in this context the type of relationship built has changed in recent years.
Today, 50% of B2B searches are done through mobile devices , as B2B customers no longer expect to find solutions only at events, business meetings or phone calls.

Source: Think with Google
Today the consumer, whether final or business, wants convenience, agility and satisfactory digital experiences.
Videos are still on the rise
Explore videos in your marketing and communication strategy, also on B2B. Videos are fast and didactic consumption, in addition to being already used by 86% of companies as a marketing tool.
Social media is also a place for B2B
B2B companies make the mistake of leaving social media aside, thinking that this type of tool has no impact on sales between brands.
In addition to not generating dialogue with the audience that follows the company's pages, these brands do not take into account a key issue: social network activity also has an impact on the ranking of pages in search engines such as Google.
Transparency and trust in the seller
Sellers have a bad reputation in the market. Of course, this is a perception that does not include all professionals who work in sales, but it exists.
In the B2B market, due to the high risks and contracting values, trust in the seller has an even greater weight. Even with the growth of online tools, 70% of business consumers want to contact a sales representative during some stage of the shopping process.
However, only 8% say they trust the representative who serves them . This insight is important so that actions are taken to establish and reinforce the credibility of the brand and trust in the company's representatives.
Sellers are increasingly present in digital
If everything is migrating to digital, sales are following the same path.
Therefore, it is important that sellers are present within the digital experience, rather than remaining only as an alternative contact.
Brent Adamson, VP of Gartner (a global research and consulting firm) spoke on the subject at his latest business leaders conference:
"B2B sales in today's world must be digital and human. A carefully designed and highly immersive digital experience where you are accompanied by a salesperson, rather than simply being directed to them inside the funnel. In other words, rather than choosing between engaging customers through vendors or digital, the best companies are exploring how to engage customers simultaneously through vendors and digital."
Source: Gartner – B2B Sales Must Focus on Seller-Assisted Digital Experiences
More present in digital, sellers can help customers translate the huge volume of information available online, guiding the buying process in a consultative way.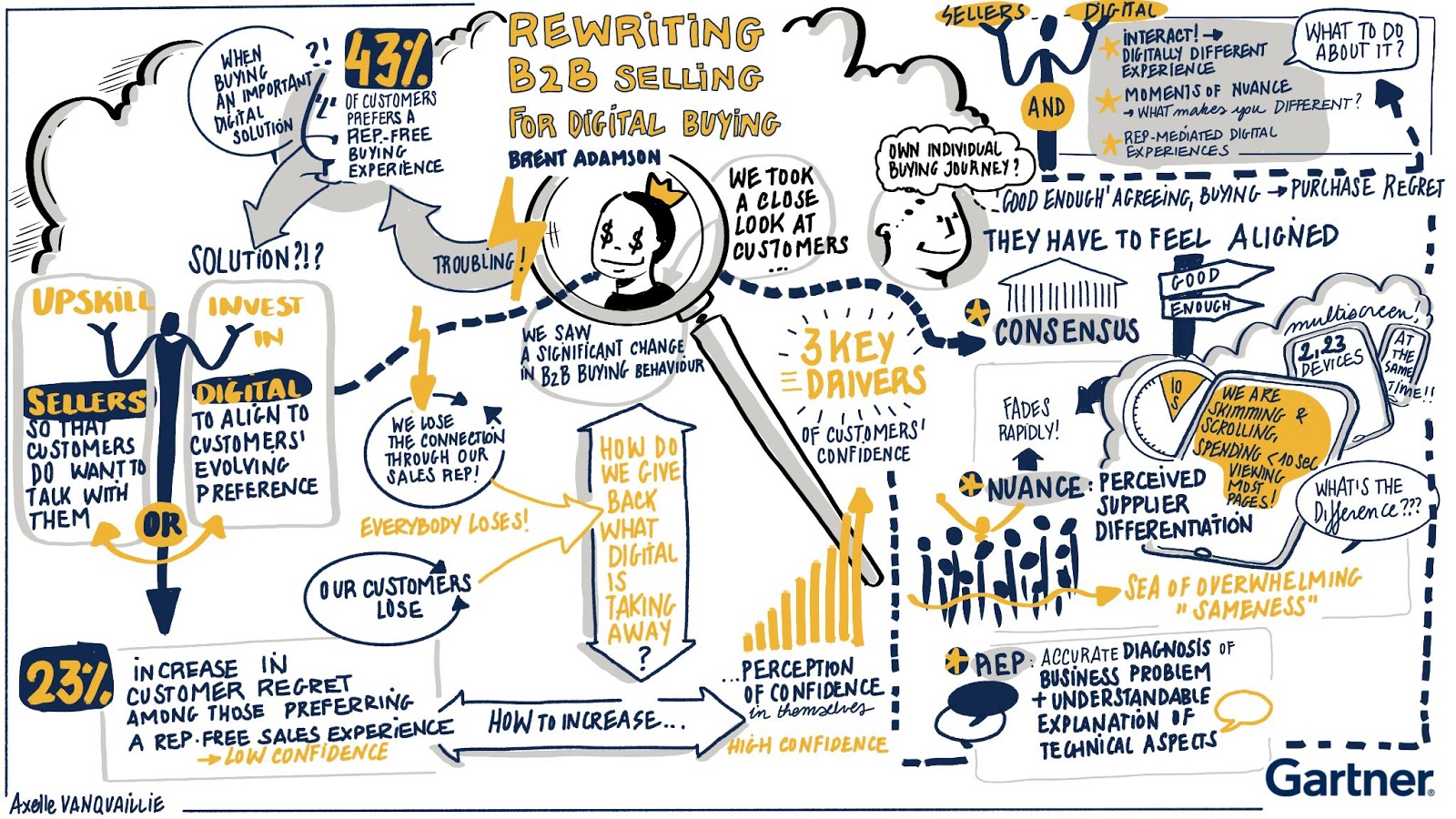 With the right strategies for B2B marketing and sales, it is possible to have results with digital channels and multiply business results between companies, exploring the tools that digital marketing can provide.