If you follow the digital marketing market, you are tired of hearing the term "Growth Hacking".
Despite becoming a hyped and severely misused term, when well planned and executed, the strategy can bring excellent results for companies.
If you want to know more about this form of growth in scale and know some cases of brands that managed to achieve the established goals, continue reading the post.
What is Growth Hacking?
Growth Hacking is a method aimed at the growth and scaling of a company, involving all the strategies, processes and departments of the business.
Widely used in startups, Growth hacking is a different way of thinking about growth, in which the main objective is to use all resources, strategies and learning with the focus on results.
And not just any results.
Growth Hacking aims to generate growth disproportionate to the investment made.
There is a distortion in the understanding of the subject by some market professionals, who think that Growth Hacking is related to a set of actions or tools.
In fact, talking about Growth hacking is talking about a growth mindset.
After all, it has a lot more to do with thinking than with a methodology with an applicable step-by-step approach.
Growth Hacking is the growth of brands and companies based on metrics, learning and experiences.
The objective is to find "hacks", that is, bottlenecks, problems and triggers to turn them into opportunities and growth.
According to the diagram created by Growth Tribe, specialist in Data Science, Growth, Innovation and Customer Experience, it is a compilation of technical marketing knowledge, UX improvements, CRO and lean marketing.
Source: Growth Tribe
What is Growth Hacking in Digital Marketing?
Some professionals end up getting confused when they think that Growth Hacking is a methodology applied to digital marketing. It can be, but it's not limited to that.
Both Marketing and Growth hacking find great results through the development of strategies based on experiments, data and learning.
And both are looking for growth — after all, they need to be in line with the company's overall goal.
Digital marketing and all marketing strategies, in fact, can learn a lot from GH's way of thinking and generating results.
Growth Hacking can be applied to digital marketing in data analytics and strategies to optimize channels and resources, focusing on opportunities to generate growth.
And here, ideas can be explored in actions to capture leads, improve brand image, sales funnel, test implementation, user and customer activation, customer retention and much more.
How did Growth Hacking come about?
The term Growth Hacking first appeared in 2010 in an article titled "Find a Growth Hacker for Your Startup".
The author was Sean Ellis, one of Silicon Valley's exponents with an eye-catching resume: Sean was Head of Growth at DropBox, Head of Marketing at LogMeIn and columnist for Forbes and TechCrunch, as well as a consultant, and brought the learning together to start this new way of thinking about business growth.
After that, big names in marketing and business growth leaders (such as Andrew Chen of Uber, Aaron Ginn of Everlane and Lincoln Network, and "The Obstacle Is The Way" writer and author Ryan Holiday) also began to explore the term and enhance the "Growth Hacker" way of thinking.
Are Growth Hacking and CRO the same thing?
CRO or Conversion Rate Optimization is the strategy for conversion rate optimization.
If you want to improve your brand rates, you should pay attention to the CRO, which proposes to use the existing structure, increasing and adjusting it to improve conversion rates, increase results and, consequently, sales.
With this description, you may wonder if there are differences between CRO and Growth Hacking.
The truth is that Growth Hacking includes CRO, which is more related to customer acquisition, while Growth covers other aspects beyond that.
What does a Growth Hacker do?
Remember the Sean Ellis article we reviewed from 2010 where the term "Growth Hacker" first appeared?
According to this same article that kick-started the growth mindset, a Growth Hacker can be defined as:
... a person who knows the direction for growth.
Who can see and investigate in detail the potential points of scalable growth in companies
The Growth Hacker professional needs to be immersed in the company's processes to be able to analyze data, conduct research and find the triggers, bottlenecks and opportunities and create hypotheses and experiments focused on scalable growth.
How to become a Growth Hacker?
The Growth Hacking professional needs, in the first place, to study and learn to have a mindset focused on growth and results, through data analysis and experimentation, since that is what the methodology is all about.
You also need to have technical and conceptual knowledge in business development and marketing, automation tools and data analysis.
You need to know how to make use of available processes and technologies, be interested in innovation, enjoy challenges and measurable results.
Does Growth Hacking Work?
As methodologies that involve changing beliefs and mindsets, Growth can seem challenging for many companies.
Because it deals with data analysis, it may seem unattainable for others who do not do any type of capture, let alone analysis.
In other cases, because it involves marketing and technology, it may seem costly or difficult to learn for others.
But the Growth Hacking methodology encourages professionals, leaders and entrepreneurs to collect data for analysis, focus on finding the levers that really bring results and do lots of tests, because nothing will work without leaving the paper.
This with the purpose of thinking out of the ordinary and ordinary, going beyond ideas and challenges to reap results.
And this methodology works, if applied well.
The Growth Hacking Funnel
The AARRR funnel or pirate funnel is a type of framework that is highly relevant in the context of growth, and, therefore, widespread in the world of Growth Hacking.
Today, many professionals call the AARRR funnel the Growth funnel.
That's because Growth Hacking is concerned with the company's growth and scaling, involving all the strategies, processes and departments of a business.
The pirate funnel is one of the fast-growing methodologies, as it is concerned with optimizing the management of each stage, to ensure the best results in each one of them and as a whole.
For example, the better the retention rates, the greater the revenue generated.
The steps or metrics in this funnel relate to the marketing funnel and the consumer journey and help us create strategies for each of them.
The nomenclature comes from the English Pirate Metrics — which takes its name from the correspondence with the acronym AARRR, which recalls the sound of pirates represented in movies and cartoons.
A – Acquisition;
A – Activation;
R - Retention;
R – Revenue;
R – Referral.
By taking a closer look at this nomenclature for each phase of the funnel, you begin to better understand how it works and also begin to see bottlenecks and points for improvement that may exist in your process.
How to start a Growth Hacking strategy in your company
If you want to put the Growth Hacking mentality into practice in your company and start reaping the results we've already described here, check out this step-by-step guide.
Create strategies and ideas
Create campaigns, strategies and tactics that are aligned with your company's goals.
If you don't know what they are, take a step back before you start implementing Growth Hacking and find out what they are.

Organize and Prioritize
Determine and compare the potential impact of each of your ideas from the previous step and start by applying those that seem to be most relevant in this context.
You should also take into account the level of effort and resources required by each of them.

Test
Put your ideas into action, test your hypotheses! Only then will you know which ones really work.

Analyze
Compare the results of actions and campaigns put on the air and make a critical analysis based on data for the next decision-making.

Optimize
Use the lessons learned in the testing and analysis steps to improve the execution of the next actions and optimize those that you decide to keep running.

Repeat
Once this cycle is completed, you will have to repeat it. New ideas, tactics and strategies will emerge to drive your business growth.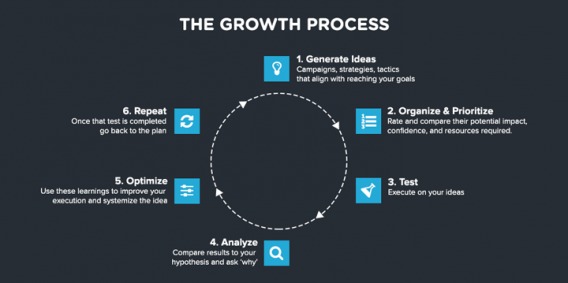 Source: CXL
2 (Current!) Success Cases Using Growth Hacking
Rappi
Rappi was one of the fastest growing startups in recent years and is now present in several countries.
The growth was the result of aggressive, creative and unconventional investments and strategies.
Objective: Rappi's business proposal is to deliver everything that fits in the delivery box. For the business to scale, it is necessary to work with the acquisition of three types of users: the consumer who requests delivery, the couriers and the establishments that work with Rappi in partnership.
Experiment: Creation of a subscription model to encourage recurrence and increase the average ticket, investment in personalized customer experience, full transfer of the delivery fee to courier, fee flexibility to attract the participation of merchants. In addition, the brand invests in out-of-the-box Public Relations actions, dissemination in alternative media, created an in-app payment system, Rappi Pay, partners with other companies and digital influencers, and explores flashy uniforms for deliverymen.
Result: Expansion of operations to 7 countries, 3.6 million users, 60 thousand couriers, 500 thousand registered establishments, 2500 employees, 6 investment rounds totaling US$1.4 Billion, growth rate of 22 % per month.
Syhus
Syhus is an accounting firm that did not want to work in a generalist way and decided to allocate its efforts and resources to a specific niche.
Thus, in addition to making the service specialized, they would be able to focus on the public they would like to attract, without having to shoot in all directions.
Objective: In the case of Syhus, the focus was on offering specialized accounting services to startups and technology companies.
Experiment: Building brand authority in a specific niche of activity, investing in content and SEO, directing communication to the proposed focus, using social proof on the website to bring credibility.
Result: Creation of an image as a specialist, prominence in the media, specialization of the service offered and attraction of new customers.
4 Best Growth Hacking Books
We are sure that the content presented in this post will help you understand and implement the Growth Hacking mindset and methodology in your company.
If you want to further deepen your knowledge of the subject, here is a list of recommended books about growth hacking.
Hacking Growth: How Today's Fastest-Growing Companies Drive Breakout Success, by Sean Ellis.
Ryan Holiday's Growth Hacker Marketing: A Primer on the Future of PR, Marketing, and Advertising.
Play Bigger: How Pirates, Dreamers, and Innovators Create and Dominate Markets, by Dave Peterson.
From John Hall, Top of Mind: Use Content to Unleash Your Influence and Engage Those Who Matter To You.